Hello! My Alexandra Village
10–14 August 2022
Lorem ipsum dolor sit amet, consectetur adipiscing elit, sed do eiusmod tempor incididunt ut labore et dolore magna aliqua. Ut enim ad minim veniam, quis nostrud exercitation ullamco laboris nisi ut
Hello! My Changi Village
5–9 August 2022
Lorem ipsum dolor sit amet, consectetur adipiscing elit, sed do eiusmod tempor incididunt ut labore et dolore magna aliqua. Ut enim ad minim veniam, quis nostrud exercitation ullamco laboris nisi ut
Hello! My Chinatown
17–21 August 2022
Lorem ipsum dolor sit amet, consectetur adipiscing elit, sed do eiusmod tempor incididunt ut labore et dolore magna aliqua. Ut enim ad minim veniam, quis nostrud exercitation ullamco laboris nisi ut
About Alexandra Village
Programmes
Trails
About Alexandra Village
Bounded by Alexandra Road and Jalan Bukit Merah, Alexandra Village is named after Queen Alexandra, consort to King Edward VII of the United Kingdom and is known today to many Singaporeans for its hawker fare and as Singapore's largest motor repair village.
Much of the land in Alexandra and Bukit Merah was used to plant gambier and pepper in the early 19th century. Most of these plantations were owned by a single wealthy businessman, Seah Eu Chin. As these commodities became less profitable, Seah began to sell off his land holdings. This created a real estate opportunity for individuals who wanted to establish kampung settlements away from the increasingly crowded Singapore Town and East Coast. One such settlement was Kampung Alexandra, also known as "双口鼎" (Shuāng Kǒu Dǐng) where the character "鼎" (Dǐng ) paid homage to the cauldrons used during gambier production.
With the population growth in the 1930s, industrial buildings, brickwork factories and mills (Malay Breweries, Alexandra Brickworks, Archipelago Brewery Company) joined the hustle and bustle of Alexandra. To meet the needs of the rapidly expanding industrial and residential area, the largest fire station in Singapore at the time, Alexandra Fire Station, was also constructed. By the 1950s, Kampung Alexandra was home to a thriving community that primarily consisted of Malay servicemen (Malay Regiment soldiers and Singapore Fire Brigade firefighters) due to its proximity to the military barracks (Alexandra and Gillman Barracks).
Post-war, various areas in Alexandra were zoned for industrial use. In the 1970s, Kampung Alexandra was slated to be redeveloped into Singapore's first motor repair ""village"" – Alexandra Village. The redeveloped village was envisioned as an integrated neighbourhood to work and live in, including workshops, shophouses, three- and four-room flats, and a food centre for residents and workers.
The Alexandra Village of today embodies a segment of Singapore's industrial history and is an ideal destination for anyone looking to experience Singapore's rich heritage. Apart from its reputation as Singapore's largest motor repair village, it is also a one-stop furnishing detination and a haven for foodies!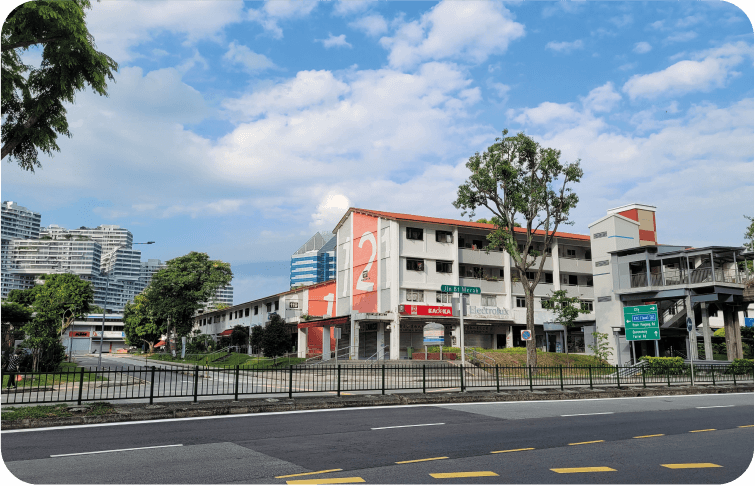 Programmes
Trails