Hello! My Alexandra Village
10–14 August 2022
Lorem ipsum dolor sit amet, consectetur adipiscing elit, sed do eiusmod tempor incididunt ut labore et dolore magna aliqua. Ut enim ad minim veniam, quis nostrud exercitation ullamco laboris nisi ut
Hello! My Changi Village
5–9 August 2022
Lorem ipsum dolor sit amet, consectetur adipiscing elit, sed do eiusmod tempor incididunt ut labore et dolore magna aliqua. Ut enim ad minim veniam, quis nostrud exercitation ullamco laboris nisi ut
Hello! My Chinatown
17–21 August 2022
Lorem ipsum dolor sit amet, consectetur adipiscing elit, sed do eiusmod tempor incididunt ut labore et dolore magna aliqua. Ut enim ad minim veniam, quis nostrud exercitation ullamco laboris nisi ut
Hello! My Chinatown
17–21 August 2022
Althought Smith Street has undergone numerous rounds of change, vestiges of its illustrious past can still be found if you look close enough! Embark on 3 unique trails at our festival village which will take you back in time for a taste of a different Chinatown!
About Chinatown
Programmes
Trails
About Chinatown
Smith Street has been home to many things over the years. Once known as 'hei yuen kai' (Theatre Street), Smith Street was the centre of a thriving Cantonese opera scene, with the Lai Chun Yuen Theatre as its crown jewel (36 Smith Street). Street hawkers would also line Smith Street, selling laksa, prawn noodles and chicken rice amidst other local delicacies. The street was also a popular place for fresh vegetables and other produce until 1983 when most of these hawkers were relocated to the present-day Chinatown Complex.
A portion of Smith Street was later converted into an outdoor eating area and was known as 'Chinatown Food Street' in 2001 and in 2014. The street was frequented by locals and tourists who showed up in droves to indulge in all-time favourite hawker fare, such as minced meat noodles, fried oyster, satay and BBQ seafood until its closure during the pandemic.
The Smith Street of today may be vastly different from its past but it has no doubt retained its charm and character. If you look closely enough, you can still find traces of the past in the architecture of the shophouses and the historic businesses that line the streets. Thread between the past and present and rediscover Chinatown Smith Street with us!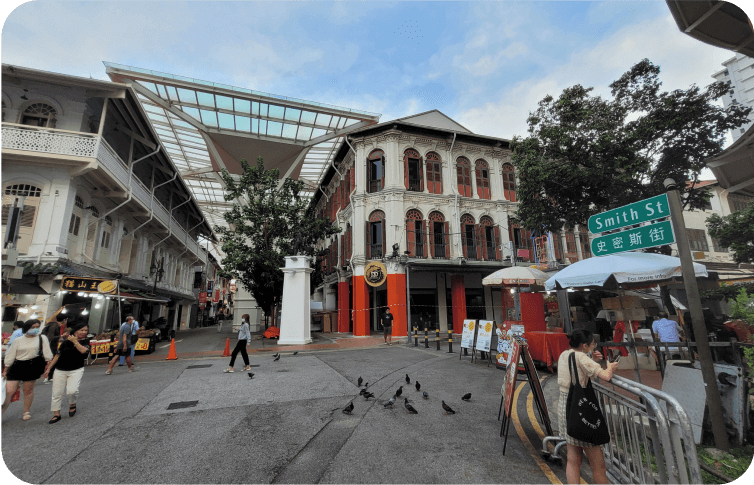 Programmes
Trails